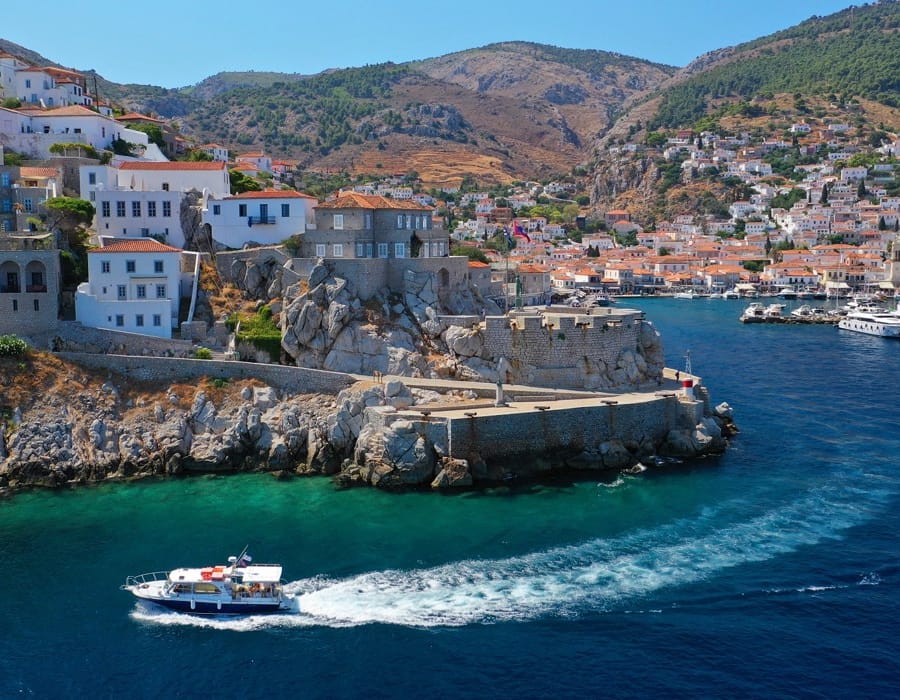 Discover Hydra
The International Centre of Artistic Creation
Named after the abundant waters that flowed from the many springs of the island, Hydra or Hydrea was inhabited since the After Neolithic Era (3000-2600 B.C.). The island has played a significant role in the maritime history of Greece by commanding the most powerful fleet in the Aegean during the Revolution of 1821.
Hydra was also recognized as the International Centre of Artistic Creation with many artists inspired by its unique landscape. Nowadays Hydra continuous to be a gem of the Saronic Gulf, a paradisiacal hideaway and yachting paradise.
A bohemian island with a story to tell. Its central location makes it the perfect base for island hopping between other islands of the Saronic Gulf such as Poros and Spetses as well as other spectacular destinations such as Hermioni, Porto Heli and Nafplion. It is a heavenly destination blessed with historic grace and abundant natural beauty with many sites and attractions worth exploring.
Sights & Attractions
The Bastions (cannons)
Historical Archives Museum
Merchant Marine Academy
Melina Merkouri Auditorium
Ecclesiastical Museum
Monastery of Agia Efpraxia
Monastery of Prophet Ilias
Dokos island
DESTE Foundation Project Space
Church of the Assumption
Koundouriotis Mansion
Monastery of Agia Triada
Monastery of Agia Matrona
Monastery of Agios Nikolaos
Monastery of Zourvas